Wholesale is an essential part of the production process for many businesses. It involves buying goods in large quantities from manufacturers or distributors at a lower cost and reselling them to retailers or end consumers at a profit. The concept of wholesale can significantly contribute to production efficiency, ultimately benefiting both producers and consumers.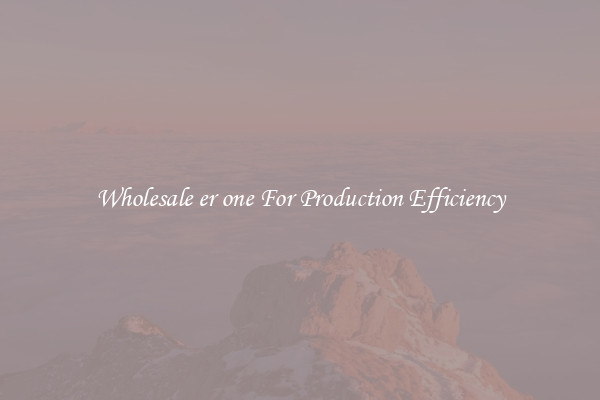 One of the key advantages of wholesale is cost reduction. By purchasing goods in bulk, businesses can negotiate lower prices with manufacturers or distributors. This allows businesses to achieve economies of scale, meaning they can produce more goods at a lower cost per unit. This cost reduction can lead to increased profit margins or lower prices for consumers, making goods more affordable and accessible.
Additionally, wholesale can help producers optimize their production processes. When businesses buy goods in large quantities, they often need to plan their production schedules accordingly. This requires forecasting customer demand, managing inventory, and aligning production activities with the estimated sales volume. By doing so, businesses can minimize production and inventory holding costs and avoid overproduction or underproduction. This optimization enables producers to run their operations more efficiently and avoid unnecessary waste.
Another benefit of wholesale is the acceleration of cash flow. When businesses buy goods in bulk, they often negotiate favorable payment terms with suppliers. They may be able to negotiate extended payment periods or bulk discounts, allowing them to maintain positive cash flow. This liquidity is crucial for funding various business activities, such as purchasing raw materials, investing in new equipment, or supporting other operational expenses. With improved cash flow, businesses can operate smoothly and reinvest in their production processes or expand their operations.
Wholesale also facilitates market expansion and access to a wider customer base. By selling goods in bulk to retailers, wholesalers enable products to reach different geographical locations and end consumers. Wholesalers often have established distribution networks and relationships with retailers that can help producers penetrate new markets or expand their reach. This expansion can lead to increased demand for products, higher sales volumes, and broader brand exposure.
In conclusion, wholesale plays a significant role in enhancing production efficiency. Through cost reduction, optimization of production processes, improved cash flow, and market expansion, wholesale enables businesses to streamline their operations and deliver goods more efficiently. Furthermore, wholesale benefits both producers and consumers by reducing costs, increasing affordability, and providing access to a wider range of products. As a result, wholesale remains a crucial element in the supply chain and a driving force behind the success of many businesses.