Sparkling and Safe Eco-Friendly Fireworks for All Festivals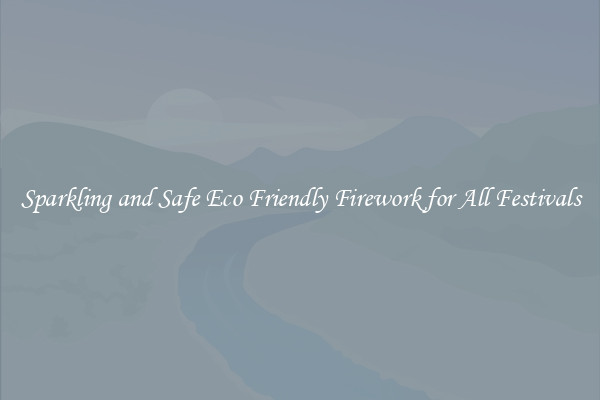 Fireworks have always been an integral part of festivals and celebrations all over the world, adding a touch of spectacle and excitement to the night sky. However, traditional fireworks have long been associated with noise pollution, air pollution, and potential harm to both the environment and people. Thankfully, there is a growing trend towards using sparkling and safe eco-friendly fireworks at festivals, creating a safer and more sustainable alternative for all to enjoy.
One of the key issues with traditional fireworks is the chemicals used to create the dazzling colors and stunning effects. Most fireworks contain heavy metals such as lead, cadmium, and copper, which are harmful to both humans and the environment. When these fireworks explode, the heavy metals are released into the air and water, causing pollution that can have long-lasting effects.
On the other hand, sparkling and safe eco-friendly fireworks are made using alternative materials that are less harmful to the environment. For instance, some companies are using compressed air to shoot biodegradable confetti into the sky, creating a mesmerizing display without any toxic emissions. Others are even incorporating natural pigments made from plant extracts to create vibrant colors without the need for heavy metals.
In addition to being environmentally friendly, eco-friendly fireworks also prioritize safety. Traditional fireworks can cause accidents and injuries due to mishandling or malfunctioning. They often emit sparks and debris that can burn or harm people and property. By using eco-friendly alternatives, the risk of accidents is greatly reduced as they are designed to be safe for both viewers and the environment.
Furthermore, eco-friendly fireworks produce substantially less noise compared to their conventional counterparts, making them more enjoyable for individuals with sensory sensitivities or pets who may get anxious or frightened by loud noises. This allows people of all ages and backgrounds to fully participate in and enjoy the festivities without any discomfort or risk.
Adopting sparkling and safe eco-friendly fireworks for all festivals is not only beneficial for the environment and personal health but also contributes to a more sustainable future. By supporting eco-friendly firework manufacturers, we are encouraging the development and use of innovative alternatives that reduce pollution and promote responsible celebration.
In conclusion, the shift towards sparkling and safe eco-friendly fireworks is a positive step towards making our festivals more sustainable, enjoyable, and inclusive. With the advancement of technology, there are now more options available to create stunning displays without compromising our environment or endangering public safety. As we continue to celebrate and honor traditions, let us also embrace the importance of sustainability and choose eco-friendly fireworks for a brighter, cleaner, and safer future for all.